El-Erian Says the U.S. Alone Has Exited the 'New Normal'-Bloomberg

El-Erian Says the U.S. Alone Has Exited the 'New Normal'
Americans can wave goodbye to the "new normal," according to the man who popularized the term.
Allianz SE chief economic adviser Mohamed El-Erian (who is also a Bloomberg Opinion columnist) says the world's largest economy has finally broken out from its post-crisis malaise.
"The U.S. on a standalone basis has exited this new normal, is now finding a higher growth equilibrium, 2.5 to 3," he said in an interview on Bloomberg Television Monday.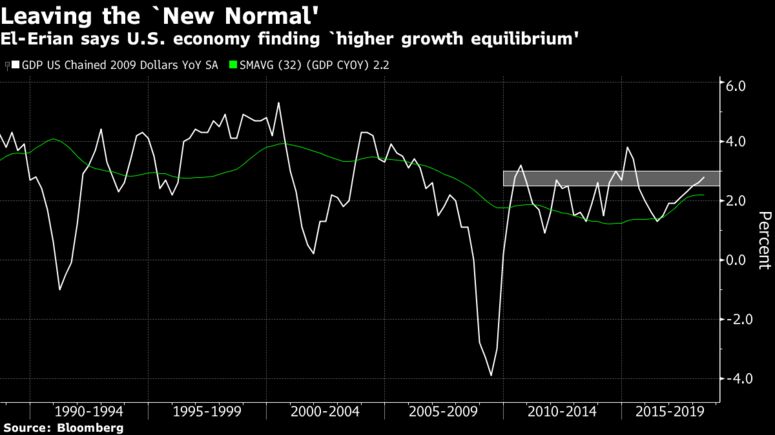 The U.S. gross domestic product rose by 4.1 percent quarter-on-quarter from April through June at a seasonally adjusted annualized rate, its fastest pace of growth since 2014.
In 2009, El-Erian and his colleagues at Pacific Investment Management Co. coined the term "new normal" to describe their meager outlook for global activity: slower growth and more regulation — not a V-shaped recovery to 3 percent expansions. This view was largely panned by Wall Street economists at the time. However, it evolved into conventional wisdom as growth failed to meaningfully accelerate in the post-crisis era with lackluster productivity gains and an aging workforce.
Now, the stage is set for labor force participation to rise while the unemployment rate stays low, according to El-Erian. This combination means the Federal Reserve can "safely raise rates," without fearing it will choke off activity.
"We may well have a situation where things come together," he said. "The disruption to that comes from the outside, not within the U.S."