Lost Locomotive Leaves World Growth Struggling to Gain Speed – Rich Miller
Lost Locomotive Leaves World Growth Struggling to Gain Speed – by Rich Miller
U.S. shuns traditional role as sole engine and so does China

Global GDP seen likely to remain stuck in second gear
Here's what's wrong with the world economy: No nation has the will or the way to be the locomotive for global growth.
The Federal Reserve looks set to hold off from raising interest rates again this week partly because of concerns that such a move would drive up the dollar and thus boost U.S. imports. China is grabbing a greater share of world markets even as it professes a desire to reorient its economy away from exports. And Europe is also scavenging for demand to help contain Brexit-fed forces that are trying to pull the trading bloc apart."I don't see a locomotive coming down the tracks," Professor Barry Eichengreen of the University of California at Berkeley said in an e-mail. "The U.S., China and Europe are all preoccupied by local problems."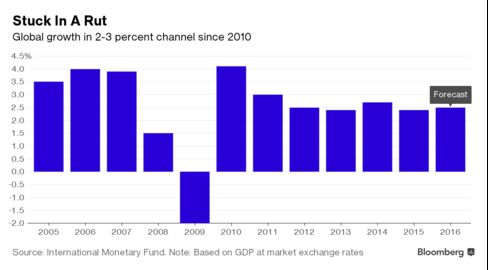 The probable result: World growth will remain trapped in the 2 to 3 percent channel that it's been in since 2010. That's a performance that International Monetary Fund Managing Director Christine Lagarde has derided as "the new mediocre" and compares with the 3.6 percent average that prevailed in the five years prior to the 2008-09 global recession.
"We have at least another year of moving sideways, of being stuck in second gear," said Nariman Behravesh, chief economist for consultants IHS Inc. in Lexington, Massachusetts. He sees world gross domestic product expanding 2.8 percent next year after climbing 2.4 percent in 2016.
Waning Firepower
Behind the lackluster out-turn: Monetary policy makers in Japan and the euro zone have "kind of run out of firepower" to spur their economies, said Charles Collyns, chief economist for the Institute of International Finance in Washington. The Bank of Japan is scheduled to report this week on a comprehensive assessment of the efficacy of its monetary measures and decide on its future stance.
While fiscal policy will increasingly come into play, it will be mostly a "holding operation" that will keep growth in mature economies more or less steady, Collyns, a former U.S. Treasury official, added.
As the world's largest economy, the U.S. has frequently played the role of global locomotive in the past. But with U.S. growth averaging just 2.1 percent since the end of the recession, American policy makers have been reluctant to see the country take on too much of that role.
"What I tell my colleagues around the world is, we can't be the only engine in the world economy," U.S. Treasury Secretary Jacob J. Lew said at a conference in New York on Sept. 13. "There needs to be multiple engines."
That sentiment is also evident in the heightened attention that some Fed policy makers have paid to both actual and anticipated movements in the dollar and their impact on the economy.